15 Art Projects and Craft Ideas for Mother's Day
By: Kelly DeNeal
April 28, 2020
We scoured the internet for the best arts and crafts projects for Mother's Day. This post is for you if you want to surprise the special woman or women in your life (i.e., wife, mother, sister, etc…) with a one of a kind gift for Mother's Day. These crafts can be customized and personalized, are easy to do, and shouldn't take too long. Most of them even repurpose things you probably already have on-hand. Whether you're planning ahead or you're in a hurry for the perfect gift idea, look no further!
It doesn't matter if you're a painter, a crafter, or none of the above, all mothers (godmothers and special women in your life) will certainly love any one of these wonderful DIY gifts.
Mason Jar Picture Frame Vases
Home Stories A to Z has a tutorial on how to repurpose old mason jars. This project requires minimal adult supervision and items you probably already have on-hand. You can customize it with any color and photo(s) of your choice.
Egg Carton Flowers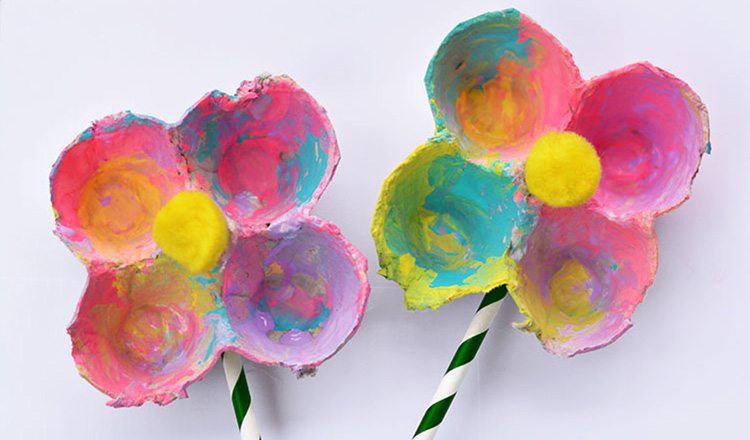 Save your egg cartons and follow this tutorial from I Heart Arts n Crafts! Bust out the paint and get creative by making mom a special bouquet that will last forever. This project would be great for children of all ages. Older children could also make even more intricate details.
Homemade "Mom's Survival Kit" 
Here's another creative way to use a mason jar for a Mother'sDday craft. This DIY Mother's day "survival kit" is such a wonderful gift idea because you can customize it with your mom's (wives, girlfriends, etc…) favorite things. This says "I thought about you and what you love, without being cheesy." Have your kids help pick out the items (they can be very creative and come up with items we wouldn't even think of).
Rainbow Butterfly Footprint Artwork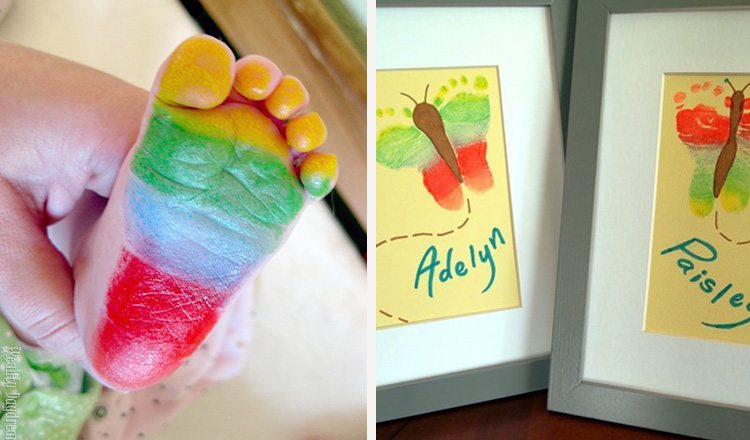 Did your family just celebrate the birth of a new baby? This will be the perfect Mother's Day gift idea. Mothers love preserving tiny footprints and handprints because time goes by so quickly. It's nice to be able to look back on the artwork at how little they once were.  These rainbow butterfly pieces from Reality Daydream put a colorful spin on the tradition. All you need is the rainbow ink pad.
Heart Thumbprint Platter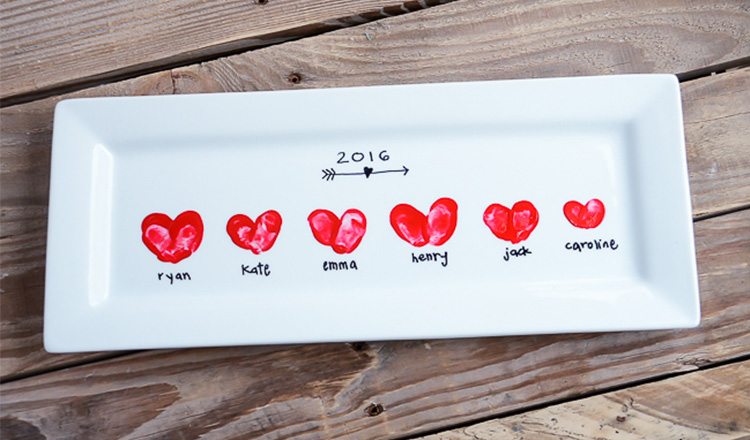 This DIY heart thumbprint platter is such a cute idea! Create thumbprint "hearts" and add a personalized message with this DIY from Simply Kierste. You'll need red paint, something to create on (even paper would work), and your thumbprint, which is the paintbrush!
Flower Photo Craft
This DIY flower photo will make any mother smile! All you need is a straw, a photo, a muffin liner, and Made with Happy provides a free template for the flower. If you have multiple children, consider creating a "bouquet" of all the children's photos.
Thumbprint Butterfly Flower Pots
Here is another creative fingerprint DIY idea. We told you moms LOVE fingerprint gifts, they're so special! Made to be Momma shares how to make butterfly flower pot that mom will love.  You can fill the terra cotta pot with her favorite candy or something that you know she would love. The best part is she can have a keepsake that she can actually use over and over again.
Handprint Coasters
Dwelling in Happiness shared this easy DIY tutorial we think everyone will love. You can never have enough coasters and anytime she sets down a drink, she'll be reminded of her thoughtful kiddos.
Ombre Tassel Necklace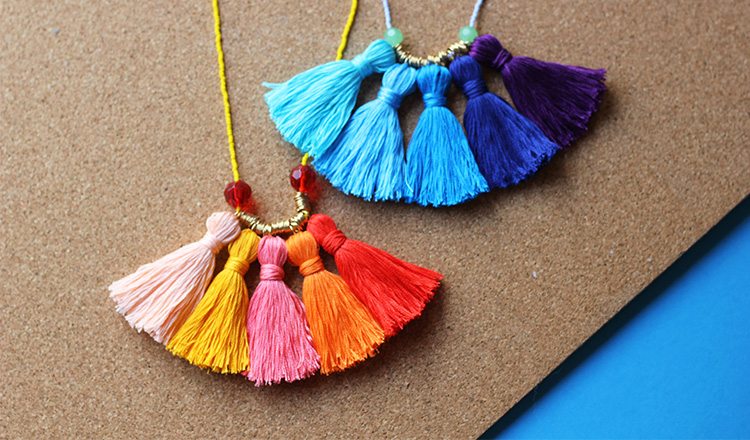 For the fashionista mother who loves wearing bold jewelry, this is the perfect project. Sometimes the best gifts for moms are the things she can show off to all her friends. Homemade Banana shares an easy tutorial on how to create a tassel necklace.
Painted Rock Garden Markers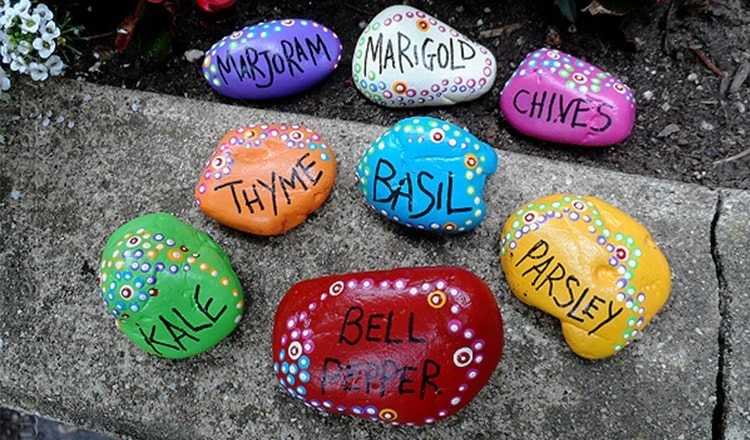 For the moms that own and maintain a garden, Crafts by Amanda suggests painting these rocks to be used as garden markers.  If your kids are too young to write, have them paint the rocks and an adult can write what each rock can be used for in the garden.  We love this idea because it's useful, inexpensive, and creative!
Personalized Flowerpot
Kids will love getting their hands dirty with this craft. Whether you are looking for a gift for mom or grandma, Giggles Galore has you covered with this adorable idea and free "I couldn't have handpicked a better mom" (or grandma) printable. Kids grow up way too fast and this gift captures the sweet innocence of childhood and those tiny little hands.
Easy Silhouette Art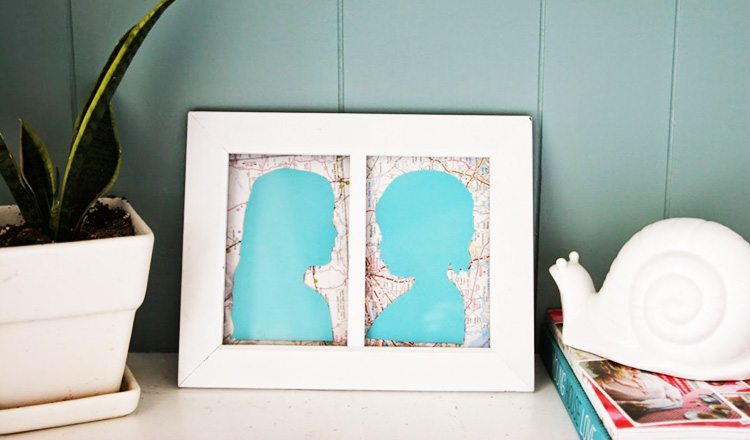 Homemade Ginger shares on an easy tutorial on how to create a silhouette artwork that mom will love! You will need a profile shot of your child, paper, and an Exacto knife or scissors. Customize the colors and the background however you would like. It's so simple but beautiful, and mom will be thrilled to hang up a silhouette of her child.
Mother's Day Art to Remember Keepsakes
Turn your artwork into a beautiful keepsake that you can cherish forever! Upload your own artwork here and shop over 50 products. From key chains and mugs to ornaments and quilt blocks, there is something every mom will be sure to love.
Craft Stick Mother's Day Sign
This easy craft from craft project ideas shares how to make a Mother's Day sign out of craft sticks. Write out what you love about mom and all the reasons you love her. Attach some cording so she can hang it up and see it every day.
Tulip in a Heart Card

Don't forget to include a card with your gift! This tulip in a heart card by Easy Peasy and Fun provides easy to follow instructions, a video tutorial, and even a free printable.
We hope you were able to get inspiration or some ideas from this list of Mother's Day crafts. Which one is your favorite?